Hours: 10 a.m. — 11 p.m.
Go Karts, Bumper Cars & Gift Shop

Bumper Cars and Go Karts go hand-in-hand for family fun in Silver Lake. Throughout the 21 years in business, we have seen many families grow and continue the family tradition of "Go Karts at Silver Lake".
Part of a church group or thinking of a class trip? We have special group rates available based on time of week and day. Call us for details!
May 8th, 2011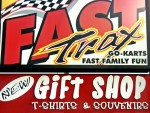 The track is cleaned. The bumper car building is unwrapped. We're getting ready for summer season 2011! Go Karts and Bumper Cars in Silver Lake, Michigan–come join us!